Russell Barr Williamson was not the only Wright assistant to touch the failed American System-Built Homes (ASBH) Project. Images in the John Howe Papers, a collection at the Wisconsin Historical Society, include renderings with handwritten attributions to Williamson's studio contemporaries Antonin Raymond and Rudolf Schindler.1
But Raymond and Schindler escaped Wright's wrath when the American System-Built Program was summarily cancelled and covered up in 1917. Williamson did not.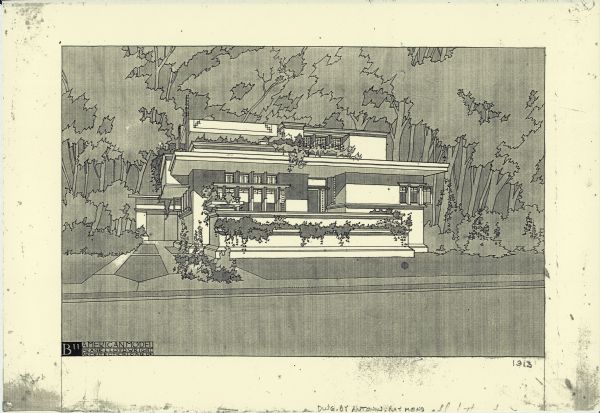 Antonin Raymond arrived at Taliesin in the summer of 1916 and was soon in Tokyo working alongside Wright on the Imperial Hotel. It was a job that Russell Williamson may have wanted but could not take, since his new wife Nola Mae didn't trust Wright to make payroll and feared being stranded without means in a foreign land, but also because Russell Williamson was already the main draftsman on the American System-Built project, a favorite of the client Arthur Richards, and was supporting work in the Milwaukee area.2/3 Raymond would later set up his own shop in Japan.
The talented Rudolph Schindler had been hired with the certainty of the Imperial commission but stayed in Oak Park Illinois to handle local work. In 1920, Wright would dispatch Schindler to California to superintend the Hollyhock House for the colorful and demanding oil heiress Aline Barnsdall.
Notably, Schindler and Williamson shared an inauspicious honor: both overreached when recalling their personal contributions during their time in Wright's studio. But unlike Williamson, who waited until after Wright's death to claim to have worked exclusively on the Imperial Hotel plans — an assertion later rebutted by the Frank Lloyd Wright Foundation — Schindler made the mistake of overreaching while Wright was alive.4
Schindler and Wright had a lively correspondence throughout their lives. While early messages are mostly about complications in the construction of Ms. Barnsdall's home, some years later, Schindler would find himself in a battle with the Board of Architects of Southern California who had denied his application for an architect's license. He wrote to Wright to ask for a letter of reference. The first recommendation letter didn't pan out. The subsequent exchange is famously comedic and went something like this, paraphrased here: (You really should read the actual letters which had me laughing out loud.)
Sorry they didn't hire you, I suspect foul play. Tell me what to write even if it is a lie, and I'll write it.

-FLW (Paraphrased)

They declined my application on grounds that I am a socialist although I am mostly non-violent. I told them I worked for you and they were unimpressed. Please tell them I did work for you and be gentle. Run anything by me first.

– RS (Paraphrased)

I thought I told them to hire you. Can't understand why it didn't work. I'll try again. By the way, you use many words to say but a few things.

(To be forwarded by Schindler to the Board:)

I told you before to hire Schindler. That should have been enough. Nevertheless, let's try again. Yes, he may have worked on the Imperial Hotel plans, but they weren't any good. Despite that, I think he has the skill to out-design any standards that you might think of. He worked for me, so he's too good for you.

-FLW (Paraphrased.)

Well that was fun, but you're going to get me in trouble. Seriously, tell them I worked for you, it was good work, and stop there. By the way, 'modern' design is all the rage in California, but it is all just a bad copy of Taliesin.

– RS (Paraphrased)

(Wright then sent three letters so that Schindler might forward his favorite to the board.)

1.) He's miles better than the lot of you.

2.) He worked for me. He helped with the Imperial Hotel. Since then, his work is still standing. Despite my recommendation, hire him.

3.) He is architecting now despite you. When you license him he'll out-architect everyone in California.

-FLW (Paraphrased.)

"If this will not get me into architectural heaven, Saint Peter must have lost his keys."

– RS
It is a playful exchange between friends that would ultimately result in Schindler being licensed. It is, however, not the complete picture of their relationship. In 1931, Wright read an account in a newsletter in which Schindler claimed to have been in charge in Chicago while Wright was in Japan. Wright fired back, saying,
"You were left with definite work to do. The Barnsdall building to superintend. Nothing else occurred." – FLW
But he didn't just correct the record. Wright must have been furious and went deep and personal, saying:
"You [would be] helpful to the country of your adoption in a great cause were you less selfish, less pretentious and more truthful." – FLW
But Wright was not done. He wrote again a few days later with intent to harm:
"You never saw one single drawing or anything else that ever entered into the building of the Imperial Hotel. Everything you ever touched or saw I saw fit to throw away." – FLW
With that, the relationship seemed irreparable, and indeed, Wright and Schindler would not speak cordially again until Schindler lay on his deathbed twenty-two years later, when Wright delivered an unsolicited and apologetic message of forgiveness:
"No matter how ambition may lead us astray, the old bonds still hold and I am sorry my once faithful helper should suffer." – FLW
And he offered to help in any way, to which Schindler replied:
"Tremendous distance, long silences, and even direct disagreement could not break my loyalty towards you." -RS
Then, Schindler died.
As passion floods nearly all of Wright's spaces, so did passion pervade his personal interactions.
But how can it be that Russell Barr Williamson – also in Wright's studio for almost 4 years; also claimer of work done on the Imperial Hotel; and the main American System-Built draftsman and organizer — sent and received no letters to or from Wright, and indeed, is not mentioned by Frank Lloyd Wright at all?
That is one of the mysteries solved in the book Frank Lloyd Wright's Forgotten House. Here is what readers are saying.
---
1 John Howe Papers, State Historical Society of Wisconsin, Drawing for Frank Lloyd Wright's American System-Built Houses, MSS 842, Box 47.
2 Correspondence between Frank Lloyd Wright and Rudolph Schindler, The Frank Lloyd Wright Foundation Archives (The Museum of Modern Art | Avery Architectural & Fine Arts Library, Columbia University, New York), (FLWFA), FicheID R001C01
3 Russell Barr Williamson Jr., Russell Barr Williamson Architect—A Collection (The Barr Brand, 2000)
4 Juanita M. Ellias, "Prairie School Architecture in Milwaukee: Russell Barr Williamson" (master's thesis, University of Wisconsin–Milwaukee, 1974)
5 Wright/Schindler Correspondence, FLWFA, S013A04, S013B04, S013A06, S013C04, S013C07, S013C08, S013D04, S013D06, S013D07, S013D08, S013E06, S018D04, S018D05, S019A04, S230A07, S0230A10